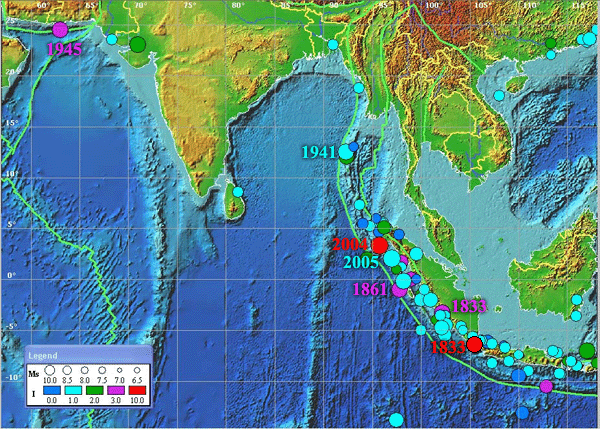 Historical tsunamis of the Indian ocean (87 events for 1640-2005)
Destructive historical tsunamis at the western coast of Sumatra
1797/02/10 M>8.0 Central part of the western Sumatra. The quake was most felt near Padang and in the area within +/-2 deg of equator. Padang was flooded by powerful waves. More then 300 fatalities.
1833/11/24 M=8.8-9.2 South coast of the western Sumatra, estimated rupture from 1 S to 6 S latitude. Huge tidal wave flooded all southern part of the western Sumatra. Numerous victims.
1843/01/05 M=7.2 Strong earthquake west of the central Sumatra. Terrible wave came from the south-east and flooded all the coast of the Nias Island. Many fatalities.
1861/02/16 M>8.2 Exceptionally strong earthquake affected all the western coast of Sumatra. Several thousand fatalities.